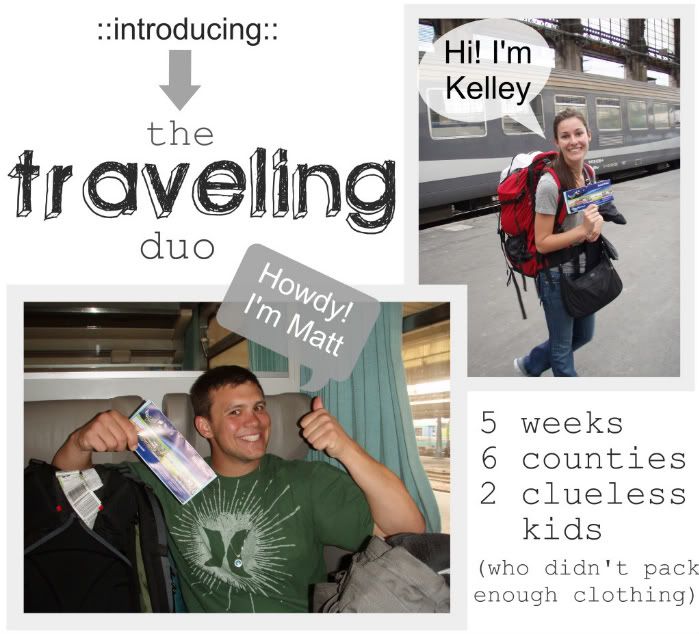 It was this time two years ago that Matt and I set off on a 5 week trip to tour around Europe. With our backpacks, camera and travel guides in hand - we set out to explore the countries we had always dreamed of visiting. We made a "loose" itinerary of the countries and cities we would visit and the approximate length of time we would stay in each city. We each bought a
Eurail Global (train) Pass
that allowed us unlimited travel so we could literally hop on a train whenever we wanted.
In the beginning stages of planning our trip, the first thing we did was e-mail everyone we knew who had visited Europe and asked where they recommended we visit. As a result, we visited amazing places and avoided some tourist traps. I would love to give the same insight to all of you! I am no
Rick Steves
and have only been to Europe once, but we had a great time and learned some lessons along the way as well. This is my attempt to pass that knowledge on to all of you. I plan to feature one city per week. I hope you enjoy the ride and would love to hear your feedback.
If you have questions about a specific city, please do not hesitate to
contact
me.
PS -
While packing for this trip the goal was comfort over fashion, which I immediately regretted as soon as we got off the plane in London. Then there was Paris...strolling past sidewalk cafes while chic Parisians smoked cigs and eyed our "comfortable" clothing. I somehow thought I wouldn't mind being in some of the most fashionable cities in the world looking like a typical American tourist. Oh well.
We packed as much as our backpacks would allow, which in my estimate was not nearly enough. As a result you will see us wearing the same clothes over and over and over and over. Please don't judge. Yes, we did wash them...at least once :)
*Check back for our first stop: London, England!