Jenny sent me photos of her living room and wants to change things up. She asked for my suggestions on the layout of the space as well as furnishings. Here is the living room as it looks now:
My suggested layout of the room, which features a media console along the back wall and placing the fireplace against the left wall:
An elevation of the back wall showcases a gallery wall of framed photographs, art and shelving with photo frames and accessories: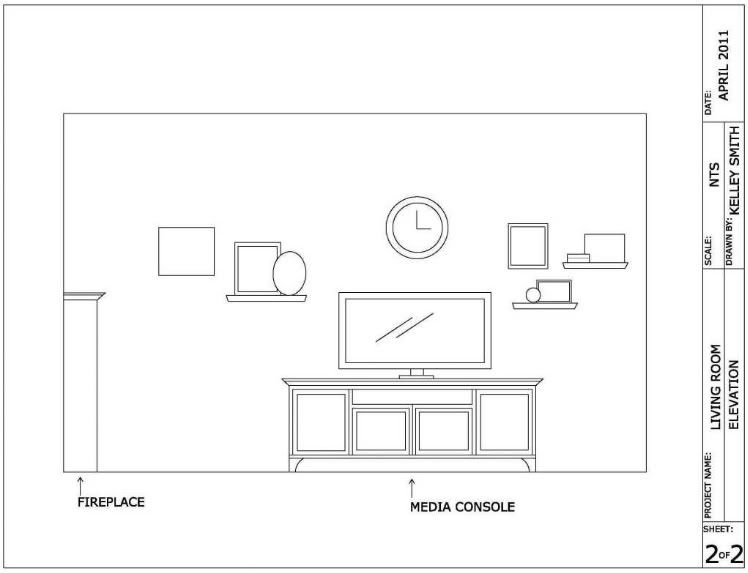 Jenny
prefers neutral colors so I chose a palette that is calming and will work well with her existing furnishings. If her budget doesn't call for an entire room re-do right away, I wanted to make sure that the new furnishing selections will coordinate nicely with Jenny's existing furniture. Here is the inspiration board for Jenny's living room:
1. Hang a large
round mirror
above the fireplace to balance out the rectangular shapes. The reflection from the mirror will make a room look larger.
2. The unique shape of this
lamp
combined with the white make it both interesting and simple.
4. This bold
accent pillow
compliments the sofa and solid pillows.
6. This pale blue
side table
adds a pop of color to a room of neutral furnishings.
7. The
sofa
is the staple of the room that everything ties into, but I didn't want to go with the usual khaki so I went with a grey hue instead.
9. The
media console
should be wide and low to the ground to balance out the back wall.
10. This
coffee table
works beautifully with the furnishings and add a natural element to the room.
If you are interested in my e-design services, please fill out the contact form.